Csaba Malatinszky-Hungarian Noble King of Cab Franc
If one were to go by the tasting impressions of the well-known international wine expert Steven Spurrier, Csaba Malatinszky is turning out some excellent Hungarian wines, especially Cabernet Franc in the Villány region. Dr. Yashoda Devi who interned with the winemaker during the recent harvest, reports.
Egészségedre!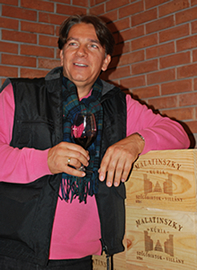 This magical Hungarian word translates to reveal two diverse meanings that are a cardinal component of etiquette globally: 'God bless you' and 'Cheers'! The former is routinely used when someone sneezes, and the latter prior to having a drink. The Hungarians are superstitious about the belief that when a person sneezes, a part of his/her spirit escapes from the body. A toast is raised whenever alcohol is consumed- 'to wish one wholeness',-with the hope that the evaporated spirit is restored and the person becomes complete again. I cannot think of anyone better to replace that spirit, and guarantee a sense of completeness than Csaba Malatinszky!
Csaba is a fairytale legend in flesh and blood. Born to a nobleman (his blue-blooded ancestry and winemaking roots can be traced to the 14th century around Lake Balaton), his spectacular rise in the Hungarian wine world has left both his fans and critics at a loss for words. Considering that his latest achievement is being included along with a photograph in the Hungarian National Encyclopedia; to assume that his path to fame was easy is a crime that can be committed out of sheer ignorance, and a predetermined assumption of his pedigree.
Like almost every Hungarian who was unfortunate to be born during the communist regime, Csaba shares a tale of grief and frustration at having to watch every inch of his inherited land and vast fortune get confiscated by the ruthless communist government. Years of struggle finally landed him as a Sommelier at Budapest's world renowned Gundel Restaurant, a move that crafted his historical rise as a winemaker.
Csaba soon realized that his true passion lay in making wines and followed that up as a study tour student to the Medoc, which saw him interning at renowned wineries such as Chateau Pichon-Longueville Baron, Chateau Cos D'Estournel and Chateau Lynch-Bages, where he was trained in the art of blending wines. He returned to open Budapest's first exclusive wine retail outlet, La Boutique des Vins in 1991, after the end of the communist rule. At about the same time, he began to blend his Le Sommelier Wines in collaboration with Jozsep Bock, who is his arch-rival and neighbour today.
By 1993, his first vineyards were planted at Villány with mainly French Varietals of Cabernet Franc (30%) and Cabernet Sauvignon (30%) and the remainder 40% consisting of Chardonnay, Sauvignon Blanc, Merlot and the indigenous Hungarian varietals such as Kékfrankos and Kadarka. The soil in his vineyards is mainly composed of loess with some clay and limestone. An enormous number of insects can be dug out from the soil, and birds swarm around in abundance, revealing signs of perfect soil-aerating conditions and ripened fruit respectively. The vineyards now about 40 hectares in size, is personally nurtured by Csaba. The results are evident as soon as the grapes start coming into the winery during the harvest.
Harvest time is as hectic as it is expected to be anywhere in the world. Csaba begins his day by walking around the vineyards at six in the morning in the biting cold, criss-crossing between rows, trudging along tirelessly for miles, sampling the fruit to determine its ripeness: criteria which will enable him to decide which parcels of his vineyards are to be picked for the day. Preliminary laboratory analysis of the grapes for sugar content and acidity aid in influencing his decisions, but he underlines the importance of personally tasting the grapes to be certain. The single most important step in winemaking is to ensure that the grapes are picked when the skins and seeds are ripe and the acidity is in balance. That fulfilled, the winemaker's intervention is minimal.
The uniqueness in Csaba Malatinszky's winemaking style is that he expertly combines the novel techniques of winemaking with traditional methods. His emphasis lies clearly on allowing the terroir in which the grapes are grown, to be expressed through his wines: a classic example of those that are purely made in the vineyards. Proud of his heritage, Csaba uses 100% Hungarian Oak barrels which have been dried for 4 years and washed thoroughly to remove excess woody flavours. The equipment available at the winery for the harvest is basic and the winery itself is well budgeted with no unnecessary extravagance visible. Only two cellar workers carry out all operations for a total production of 200,000bottles.Every movement of wine is supervised by Csaba himself, who also has the onus of marketing the wines and is therefore forced to shuttle every weekend between Villány and Budapest, where his retail wine outlet still exists.
Malatinszky's wines are available at three levels. His entry level wines are the Le Sommelier range which consists of some superb Chardonnay and Merlot Rose, followed by Noblesse and finally his Kúria which is his top-end wine. His mastery over the techniques of winemaking is evident in his Cabernet Franc, a varietal that is hardly produced as a 100% varietal except in Chinon, Bourgeil and Saumur Champigny in the Loire Valley .Although some wines in Saint Emillion, like Cheval Blanc, are famed for its Cabernet Franc content; producing a 100% wine has still not been possible in the region.
The Kúria Cabernet Franc 2003 is flawless and has bags of fruit (wild berries/red fruit/violets), tannins, a good acidity balance and an unbelievably long, rounded finish that lingers along the length of the palate for many minutes, indicating a wine that will last for another 15 years. It is easily one of the most magnificent 100% Cabernet Franc that I have ever tasted. The prices of the wines range from 2700 Hungarian Forints per bottle (270 HUF=1 Euro) to 17000HUF. If at all Csaba Malatinszky is concerned about anything, he wants his older wines decanted at least 2 hours before drinking, and all the wines served at the right temperature and in the right glass, of course!
The better part of working with Csaba is the late-night grilling sessions at the garden in the winery, while awaiting the arrival of grapes, where we cooked rabbit, fish soup, Pork knuckles, Mutton paprika, Beef ribs, Chevabs (kebab)-a Croatian barbecued minced meat dish, Smoked sausages, Bacon  and  Chicken, thanks to my colleagues Faludi Sándor and Béla who camped out every night during the harvest! And downing it all with the most expensive and precious wines of Villány – The Kúria range of Cabernet Franc, Kövesföld, Merlot and Cabernet Sauvignon. Better still, is to wake up and receive a basket of organically grown tomatoes that have been picked fresh by Csaba himself from the garden in his house. A perfect antidote to the previous night's extravagances and hard work
I could not have imagined a better internship! I intend to return in 2011 when Malatinszky's new winery will be ready (complete with hotel, spa, guest house and 3-star Michelin restaurant) to learn more about the man, the myth and the King of Cabernet Franc! And of course the Cabernet Franc itself!
"So is there anything at all that is negative about the man?"  , asked a friend.
No! Not unless you consider being too good looking a crime!
Until then, Hiányzol Csaba!
Dr Yashoda Devi
Tasting Notes from Steven Spurrier on Malatinszky Wines
VILLANYI ROZE 2008.
Fine bright rose, fuller than those from Provence, more like a Tavel; attractive fresh fruit aromas, light summer fruits, cherries and strawberries; clear fruit flavours on the palate, quite firm fruit, with a touch of natural fruit tannins, fleshy yet firm, fine dry finish, more or a food rose than an aperitif, but good on its own due to its lively and refreshing finish, balance and length.  Carries its 13.5 alcohol well as natural acidity keeps it refreshing.
LE SOMMELIER TENKES 2006.
Bright carmine ruby, full but not heavy;  fine aromas of crushed red and black berry fruits, natural ripeness and again without any over-extraction, good fragrant fruit nose with natural lift;  good first impression on the palate, fine blend of Cabernet and Merlot, with the Cabernet dominating in terms of grip and firmness, the Merlot adding some middle suppleness, the finish showing a little greenness;  good now with meat dishes to absorb the natural tannins, or wait a year for them to be absorbed naturally, but not complex enough to keep for the long term; overall a good, bright, naturally tannic wine that carries the 14 alcohol well due to its freshness on the palate.
KURIA CABERNET FRANC 2006.
Very fine deep carmine colour, richer and deeper than Tenkes, but not overdone;  excellent Cabernet Franc nose of wild raspberries and a hint of violets, very pure, good depth of fruit;  very good fleshy red/black fruit flavours, with suavity and a lightly velvety texture and lifted fruit finish; a wine of great purity and polish, fine vineyard origin, ripeness and depth of fruit and natural acidity and tannins, all in balance and almost "taffeta-like" considering the 14.5 alcohol;  a wine of great charm and character, stays on the palate and on the mind, very good indeed for at least another 5 years.
CABERNOIR 2006.
Deep young, nicely concentrated dark ruby, very fresh-looking;  fine expression of up-front red/black fruits, with a touch of black cherry jam and a little warm spiciness;  same fleshy, up-front fruit on the palate, natural tannins, still a little green and has not the complexity nor the purity of the Cabernet Franc, but has an attractive, youthful robustness, perfect for red meats or grilled meat (even grilled fish) especially when eaten in the open air; will develop nicely, but do not keep so long that the youthful fruit is lost.
SUMMARY
A very good range of wines, plainly made with respect for the soil, the grapes and the region, seems like minimal intervention and all four have a fine naturalness which makes them perfect to accompany a meal with friends.
STEVEN SPURRIER

Dr Yashoda Devi is a practising medical doctor. In 2005, she went to London where she passed out of WSET Advanced course with a distinction. She was invited as a judge for the Japan Wine Challenge in 2007. She has worked with Grover Vineyards as an Assistant Winemaker. She has recently done the harvest at Villány with Malatinszky.